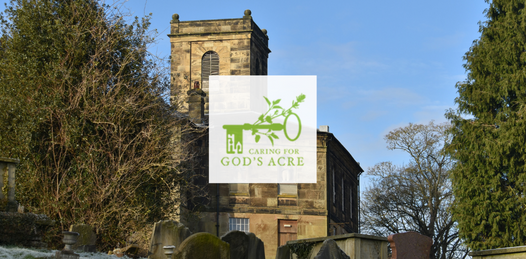 Why Record Wildlife?
In my monthly articles I often ask you to let us know what wildlife you see in your local churchyard, but why? How does it help to record a single flower or frog? Biological records form the bedrock of our understanding of biodiversity; which places are the most precious, how is our country changing over time, how is climate change affecting things and much more. All of these questions need information, created by individuals, piece by piece, taking time from their busy lives to stop, look, listen and note things down. An individual record is of limited value but put them all together and a picture starts to emerge. Caring for God's Acre, working closely with the Church of England and the National Biodiversity Network are building that picture for the biodiversity found within our burial grounds and its starting to look really interesting.
In the Hereford Diocese the burial ground with the highest species count is Ludlow Old Cemetery with 712 species, followed by Bridgnorth Cemetery with 679 and third is the tiny churchyard of Hope Bagot on the side of the Clee Hills with 289 species. Unusually the only mammal recorded in Ludlow Old Cemetery is an otter, the site is within a bend in the river though. All three of these sites have benefited from visits by groups of naturalists such as the local branch of the Botanical Society who have learned of the richness of the biodiversity and organised group visits to explore these special places. This then leads to more recording and more interest from other naturalists, a positive spiral.
So please, when you think and plan for a new year, make some time to have a go at submitting a biological record. Why not try to use iNaturalist? You'll find helpful hints and videos on our website under Get Involved.
You can look up your local churchyard on our system (burialgrounds.nbnatlas.org/) and see whether anything has been recorded yet. You could be the first to record a yew tree, ivy, bramble, rooks, robins or jackdaws. It's very likely there is a goldcrest hiding in the yew tree, ready to reward the patient observer! How about a new year resolution to make a record of a different species every month this year – I think you will enjoy this and look forward to hearing how you get on.
All the best, Harriet Carty
Diocesan Churchyard Environmental Advisor, harriet@cfga.org.uk,
www.caringforgodsacre.org.uk - individuals and groups in the diocese receive 20% members discount on all CfGA materials. Use the discount code diomem22