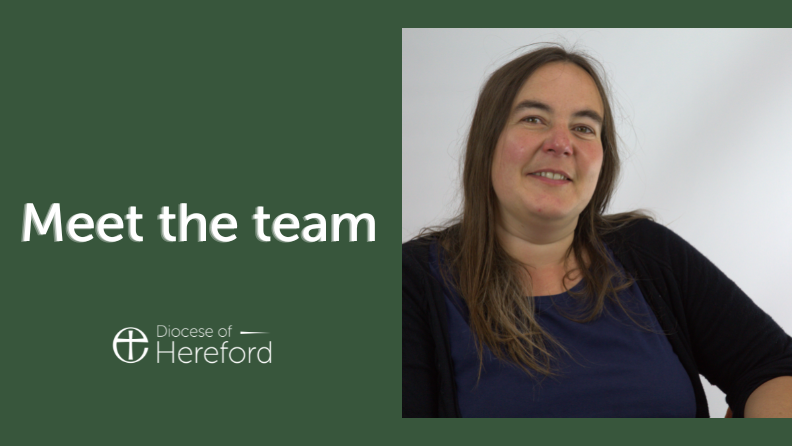 .
The next team member we meet in our two-minute interview is Kathy Bland
Kathy's job title is Intergenerational Church Enabler, which includes being our Diocesan Messy Church Lead, supporting other new worshipping communities, and offering support and training to our Open The Book Teams. She is also a Licenced Lay Pioneer. Kathy lives in Leominster and has worked at Diocese since 2014. She has been a member of the Board of Education and volunteered for the Young People's Team before that. Kathy is Chair of Trustees for Leominster Food Bank and Community Money Advice Centre and is a campaigner for social justice. She's also a Morris dancer and has three sons who are all considerably taller than her, which helps her reach things in high places! She is married to South Wye's Intergenerational Missioner, David.
I: Hello. Thanks for taking part in the 2-min interview. Our first question is nice and easy - What is your favourite food?
KB: I really like bananas because they are so versatile. I love them raw, on toast, in sandwiches, fried, in cakes and dehydrated as the ultimate chewy snack. I also enjoy them in (hot) curries and cooked in porridge. I'm not sure there's anything I wouldn't be tempted to add a banana too -except for the crunchy dried ones - I pick those out of cereal!
I: If you could go anywhere in the world, where would you go and why?
KB: I loved interrailing a few years ago, so I hope to do it again sometime. Budapest was particularly wonderful with its impressive fountains, amazing circus acrobats, beautiful buildings and interesting street food. I would enjoy exploring anywhere I haven't been before, especially if it was a new continent, but as I'm trying to be aware of my carbon footprint, it would have to be accessible by train or boat. Any opportunity for an adventure would be great! If it can include some sea swimming, that's even better. I would love to visit India.
I: Final question is the one we ask everyone - What do you enjoy about working at Hereford Diocese?
KB: I enjoy visiting church communities that I haven't been to before, getting to know them and finding out what they are doing. I'm always really encouraged to discover that there is a small group of people in so many rural places with enthusiasm for serving God and loving the people around them. Visiting different Messy Churches is a particular joy - I get to see the church at its best (in my opinion!) - people of all ages creatively exploring the Bible, encountering God and celebrating together. Working for the Diocese gives me easy access to Giant Connect 4 and many other giant games! I love creating opportunities for people to play, so the Messy Church and big games combination is definitely a win for me.