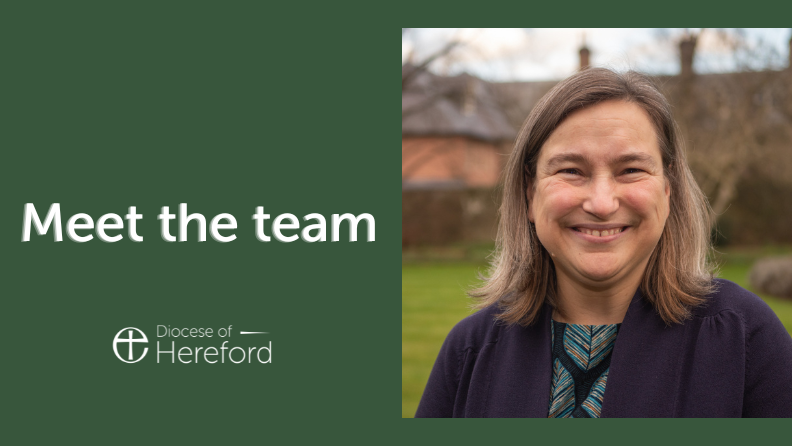 .
Today in our #2minInterview we meet Elizabeth Wild.
The Revd Dr Elizabeth Wild is our Local Ministry Lead. She joined Hereford Diocese in February 2022.
Elizabeth leads the Mission and Ministry Team with a particular responsibility for Readers and developing local and lay ministry.
She is a key part of supporting our mission and ministry, working alongside some highly closely with senior staff, key stakeholders and leading the Mission and Ministry Team.

Here is what she told about herself.

I: Hello, Elizabeth, Thanks for taking part in the 2-min interview. What is your favourite genre of book/film?
EW: I really enjoy fiction of all kinds, from teenage and sci-fi right through to romances and thrillers. When we go on holiday, I read a novel a day, but I hardly ever get time to do this for the rest of the year. In terms of films, this is where I have to confess that I have been known to watch Christmas films as early as November – I find they are often full of joy, which is a great tonic.
I: Where is the most interesting place have you been?
EW: I was really blessed to be able to go on placement for just over a week to the Anglican church in Nazareth during my curacy. I found it fascinating to be in an Arabic speaking culture and to learn about the many challenges faced by Palestinian Christians in both Israel and the Occupied Palestinian Territories. It was amazing to walk down to the sea of Galilee and eye opening to travel through military checkpoints to the West Bank village of Zababdeh with so many of the stories of Jesus evident in the landscape and churches. I find that the people I met are often in my thoughts and prayers.
I: So special. Thank you for sharing with us your experience. The last question, but not least. What do you enjoy about working at Hereford Diocese?
EW: It is wonderful to work with such a great team of people in the central team in the Diocese, but I have also very much enjoyed getting to know people out in parishes. My favourite thing is seeing people grow, and it has been a privilege and a pleasure to see this happening among the lay leaders who are involved in training for one kind of ministry or another.