An online Week of Accompanied Prayer
Date: 26th February 2023
Time: 6:00pm - 7:30pm
Related Page: Year of Prayer 2023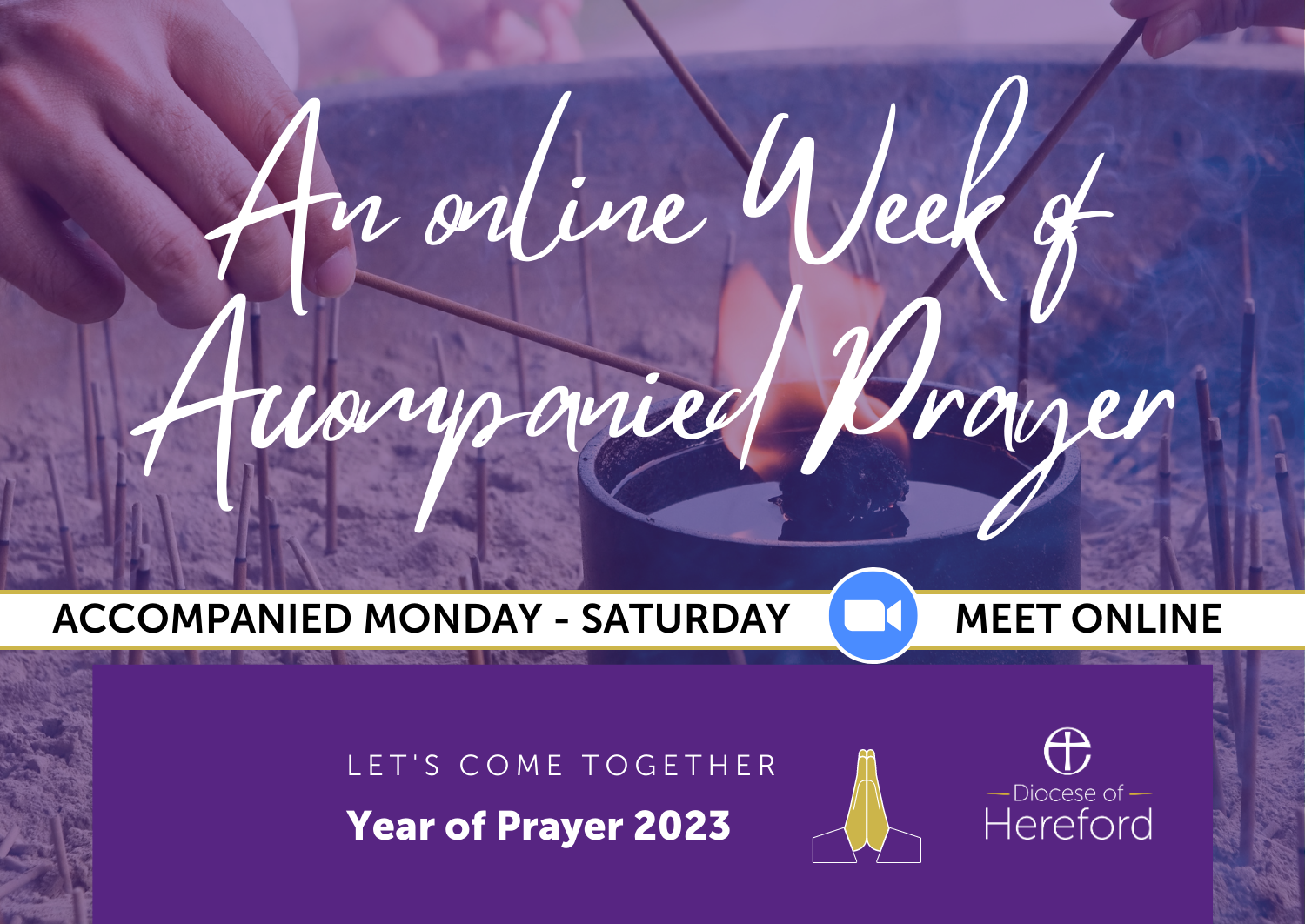 An online Week of Accompanied Prayer led by Revd Preb Nick Helm
Opening Meeting: Meet Together Sunday 26th February 6:00 pm - 7:30 pm on Zoom for everyone involved: the week will be described in more detail; you will meet your prayer accompanier and decide on a time to meet as well as have a 'taste' of what may happen.
Meet and Pray Monday - Friday:
Pray: Set aside 20 – 30 minutes each day at a time convenient for you to have a go at prayer (ways and resources are offered)
Meet with your 'prayer accompanier' for up to 30 minutes on zoom at a time you arrange with them
Meet Together: Saturday 4th March 9:00am - 10:00am, all involved gather to reflect on the week, give thanks and receive ideas for going further.
Closing date for booking: Sunday 12 February
To register for this event, please use the Zoom link: https://us02web.zoom.us/j/85994635265?pwd=VTFQS1YwdHFuRWNsTUVRcldwMXFOZz09
Further information and Frequently Asked Questions
Who can participate in a week of accompanied prayer?
No qualifications required!
Do you…
ask yourself 'is this really prayer?'
want to explore ways of praying
feel 'I'd like to draw closer to God'
wonder 'how can my prayer be more real?'
long for a deeper personal relationship with God?
wonder about the connection between faith and daily life?
sometimes find it difficult to pray?
If you can answer yes to any of the questions above, this Week could be for you!
What are the key elements of a week of accompanied prayer?
A Week of Accompanied Prayer is an opportunity to explore these things…
by giving time to pray
by giving time to talk about your prayer time with someone who listens and helps you recognise how God is with you
through different ways of praying using Scripture, and life experience
What effect does a week have?
Many have discovered…
new depth to prayer
greater zest for life and faith
experiences of God's presence
deeper peace and hope
real connections between life and faith
What do you mean by prayer?
Prayer is so much more that the few ways we might pray in church. Too often, we think of prayer as talking to God, and miss out on the prayer of listening for God and receiving from God.
We can offer other ways of praying, so you may reflect on your life's experiences, or on something creative, such as: pictures, music, stories and other literature, or being in nature; and of course, on short passages of Scripture.
Do you have any feedback from previous participants?
"It really helped me to pray in a way that felt real."
"Life is very busy and I wasn't sure about committing so much time to the Week. It's the best thing I've done in a long time!- listening to myself, to God and slowing down …. I intend to make some changes!"
"I think I always prayed in my head and have never thought feelings to be that important – probably not a good idea to feel too much! After this Week's experience I see that both heart and head are important and something is changing."
"I have found the idea of 'listening to what God is saying to me' rather difficult. God must have given me my life for a purpose and I have wanted to discover what that is while I am still able to fulfil it! I found it surprisingly easy to express myself to an attentive, uncritical listener. I feel, at the end of the week, more at ease with myself and more accepting of the person I really am."
"I feel that I have been a dead branch that has been grafted back onto the trunk of the vine. The sap of Jesus' power can start to seep into me to produce in me from within the fruits of the spirit, love, joy, peace, …."
What is a prayer accompanier?
Accompaniers have been trained to listen, and to help you pick up the signs of God's presence active in your prayer and reflection. They are not there to evaluate or to critique your prayer, but to support and encourage your exploring and help you find a creative and life-giving way to pray.
Who are the team running this?
The Accompaniers are a team of people who have found this process of prayer and talking with someone about it helpful in their own journey with God. They have been trained to do this and are supported and overseen by the Diocesan Spirituality Advisor, Revd Preb Nick Helm.
What does Bishop Richard think about weeks of accompanied prayer?
"I warmly commend the week of accompanied prayer. In my 11 years as an incumbent, the week of accompanied prayer was the most significant time of spiritual growth for those who participated. Some said it was the most significant week in their entire spiritual journey to date. The opportunity to speak in complete confidence about our spiritual lives with a confidential and experienced guide proved revolutionary and enriching. I heartily recommend this programme for anyone whatever your spirituality or stage of the faith journey."
Bishop Richard
What does it cost?
We invite participants to make a donation towards the costs of the week, suggesting between £10 and £20.
How do I find out more?
If you have questions about this online Week of Accompanied Prayer which have not been answered above please contact:
| | | |
| --- | --- | --- |
| Marion Forrester | | 01568 780188 |
| Sue Foster | | |
| Catherine Benbow | | 01746 785440 |
| Pat Helm | | |
| Pat Macrae | | 01981 580438 |
Closing date for booking: Sunday 12th February.