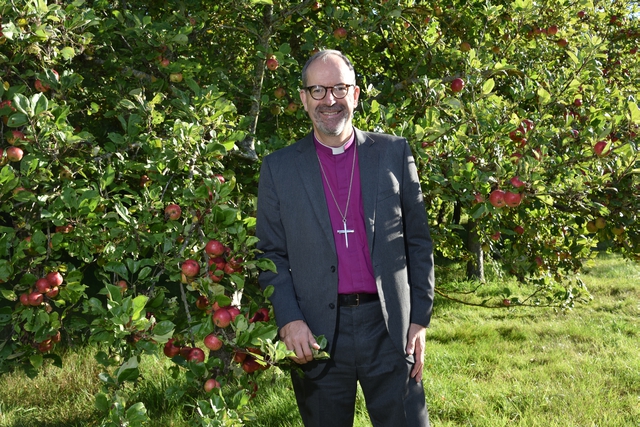 Hello everyone and welcome to this week's video.
Since last week we are back in lockdown again. Churches have been closed for public worship, although this isn't strictly correct.Even last time Churches weren't closed for public worship.The buildings were, but the church continued to meet virtually and the same will be true this time. During the first lockdown, despite our reservations, we co-operated with government restrictions.They were the law, and Bishops can hardly advocate civil disobedience!
This time, you may have seen a letter endorsed by all the Bishops, strongly protesting the closure of church buildings for communal worship.We were joined in this by friends from other faiths.In the first lockdown, much was unclear about how the virus spread and it was sensible to take the precautions we did.What seems clear is that the regulations for places of worship are not backed by scientific evidence at all.This is simply a writing off of the deeply held beliefs and practices of a sizeable part of the population as just another leisure activity.
Our acts of service to the wider community are motivated and energised by the practice of our faith. In the last lockdown 76% of people of faith volunteered as opposed to less than 50% in the wider population.There is ample evidence that following Jesus is good for your mental health, good for your soul and energises civic service.Receiving the sacraments is not a leisure activity; it's how we are sustained in our spiritual journey.Their effects are transformative.In the last lockdown I fasted from communion while it was not available to everyone else.I was really feeling its lack by the end of it.
Our worship is a communal good.It is not something focussed in on ourselves, but open to all. The wider community will really feel the loss of Remembrance Sunday commemorations.A Christmas without carols, crib services, christingles and midnight communion will not just have adverse effects on Christians, but on the many people whose faith is less clear, whom we warmly welcome year by year.
We are at least allowed to open our buildings for private prayer. So let's use that opportunity in this lockdown period.I have been so impressed with how our congregations have made their buildings COVID safe. I'm convinced that we can point folk in our communities to our buildings as safe places if they are seeking space and solace. These are holy spaces, hallowed by hundreds of years of prayer. In the last lockdown I know many communities felt the closure of buildings was a sign of God's absence.Could we use this one to proclaim his presence alongside us in the pain and difficulty of this time?
The Archbishops are also encouraging us to pause to pray at 6.00pm every day during lockdown.We'll be making some simple resources available for that.Might churches consider ringing a bell at 6.00pm every day to remind people? If not every day, perhaps on a Thursday, a day being earmarked as a particular focus for our praying.
I confess to being very cross about these restrictions on communal worship.I shall continue to pray for those in authority to make wise decisions, as Paul encourages us to do in 1 Timothy 2:2.I will continue to be law abiding as Peter exhorts us in 1Peter 2: 13. But, in this case, I will not be doing it with joy, and I will be chafing against the injustice of it, as I'm sure many of you will. There is an anger that is destructive and ultimately fruitless. We could stew against government rules and even get bitter about it.But as, I believe, Corrie Ten Boom, a survivor of the holocaust once said, "holding on to bitterness is like drinking poison and expecting the other person to die."
Our passions rightly channelled are a good thing.They can stir us out of complacency and into action for justice in a way that mere rational argument fails to do. I think part of the passion we feel stirred in this is really a deep sadness.A sadness that following the King of Kings could be thought of as a leisure activity. A sadness that our faith in Christ is so misunderstood, a sadness that there are so few of us now that Boris thinks he is able not to U turn over this one because many people won't care that much. But the passions stirred by this could instead drive us to more fervent prayer, more energetic service to those who need us, imaginative hospitality and courageous mission.
Church buildings may have been closed again for public worship, but the community of disciples will continue to be disciples,Public worship will continue online and Christians will make Jesus known by word and deed in our hurting and broken world.We have the hope of the glorious, life transforming gospel and that is unaffected by government regulations.