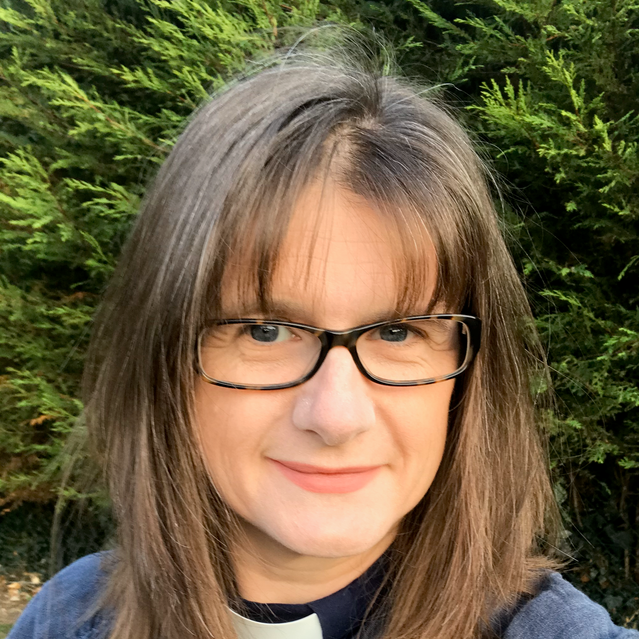 The Diocese of Hereford is pleased to announce that Revd Fiona Gibson is to become the next Archdeacon of Ludlow. This is the first time the Diocese of Hereford has appointed a woman to a senior position and marks a significant step forward for the Church of England in this rural Diocese.
Revd Fiona is currently Vicar of the Benefice of Cople, Moggerhanger and Willington in the Diocese of St Albans.
Her appointment follows the retirement of the Bishop of Ludlow, the Rt Revd Alistair Magowan, who was also Archdeacon of Ludlow, at the end of April.
The Bishop of Hereford, the Rt Revd Richard Jackson welcomed the appointment and said: "I am thrilled that Fiona will be joining us as Archdeacon of Ludlow.
"This is a key appointment to our diocesan leadership team and the first woman to be appointed to the position of Archdeacon in Hereford Diocese. She brings a wealth of experience and enthusiasm, proven expertise in education and demonstrable fruitfulness in mission. She will share with me the in the oversight and missional leadership of our diocesan family as we proclaim Christ and grow new disciples.
"I very much look forward to working with her and Derek, our Archdeacon of Hereford to support our clergy, lay leaders and parishes across the Diocese."
In her current role, Revd Fiona oversees three rural parishes, but started out working in education, qualifying as a teacher before beginning training for ordination just over 13 years ago.
She was first taught the Christian faith by her mother at home, then at church in youth and children's groups. Fiona came to a deeper understanding of who God is and what it means to follow Jesus herself during her teenage years.
Speaking of her appointment, Revd Fiona said: "I'm excited to take up the role of Archdeacon of Ludlow alongside Bishop Richard and the diocesan team. I'm looking forward to getting to know the people of South Shropshire and being part of what God is doing in the Diocese as we look to the future."
"My vision is to lead and accompany parishes as they seek to grow new disciples in their contexts, working with colleagues in shaping the diocesan vision for the coming years."
The new Archdeacon will be focused on mission, education, and clergy wellbeing. As a being member of Bishop's Staff she will have a particular emphasis on supporting parishes in the Ludlow Archdeaconry. She is a keen advocate for women's ministry and hopes to encourage more women into leadership roles in the Church.
Fiona was ordained in St Albans Diocese in 2011 and has served all her ministry in in that diocese. As well as receiving her training there, Revd Fiona has been responsible for two curates in training. She also currently serves on General Synod, the Church of England's elected governing body, various diocesan bodies, the Verulam House Fund Trust (awarding modest bursaries and project grants promoting education, spirituality, witness and service), the Oak Hill College Council, Vice Chair of the national committee of The Junia Network (formerly AWESOME - a group for evangelical Anglican female clergy), sits on the Transformations Steering Group and is a member of the CPAS Council of Reference.
Having spent six years in rural ministry she was particularly attracted to this role because of the rural nature of the diocese and opportunity to strategically shape mission and ministry beyond parish boundaries.
Her call to ordination was a long road, she explained. "It was a vicar who first mentioned ordination which I instantly dismissed. It took me nearly ten years to get there. In the end, my line manager suggested during my annual appraisal that I look at ordination and encouraged me to think seriously about it. I was again extremely reluctant, but my resistance was futile – God always finds a way."
Fiona will be moving to south Shropshire with her husband Dave early in 2021 and it is anticipated she will start in the new role in late April 2021. She and Dave have two young adult children, both at university.
Rt Revd Dr Alan Smith, Bishop of St Albans said: "Fiona's leadership in her rural parishes has made a huge difference in the villages and churches and she will be missed. Although I and many others will be sad to see her go, her new role as archdeacon will see those gifts and abilities shared more widely. Her strategic and pastoral gifts will, I am sure, be a great support to the clergy and laity of the Diocese of Hereford."
The Rt Revd Richard Atkinson, Bishop of Bedford, said: "Fiona will leave a huge gap in her parishes and in the diocese and will make an excellent and approachable Archdeacon with sound judgement, led by her passion for mission."
We hold Fiona and Dave and their children in our prayers as they prepare to move and for us as we prepare to welcome them to our diocese.